About Us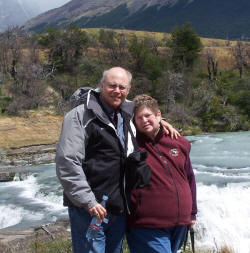 We would like to take a moment to introduce ourselves to you. We are "Baby Boomers", parents, grandparents, business people, married to each other since the 60's, involved with our community via numerous memberships, groups and volunteer activities. We love the movies, reading, eating out and most of all TRAVEL!
Our first trip abroad together was the year after we married. We went to Europe on the "5 dollar a day" plan. We dragged our overweight, oversized, luggage from city to city, airport to train station. We have walked up steep steps to tourist class hotel rooms, putting coins in showers for a few minutes of hot water.
We have experienced many travel styles, from independent self-drive and train travel in Switzerland and England, to large bus, packaged tours, in Iceland and India, to small group, hiking and walking tours in New Zealand, England and Peru. We have cruised the Caribbean, the Inland Passage to Alaska and the Mexican Riviera on large cruise ships; and the Chilean Fjords on a small vessel. We haven taken our share of beach vacations, with and without the children, as well as enjoyed large family group cruises.
What we really want you to know is that we KNOW travel! We also KNOW business, each of us having 30+ years of experience with our own businesses. Our goal is to make sure that your travel experiences are as great as ours have been.
If you reject the food, ignore the customs, fear the religion and avoid the people, you might better
stay home. ~James Michener
So, if you are ready to talk please fill out the contact form, and we will get back to you as soon as we can to start you on your travel adventure. Don't forget to sign up for our free travel newsletter.