Expand Your Horizons
Suggested Family
Destinations
Family Cruise Anywhere
Family Safari
Whale Watching in Baja
Australia Adventure
Caribbean All-Inclusive
The Galapagos Islands
Disney
Costa Rica
Alaska
US National Parks
Disney Cruise
Villa Rental
Riverboat Cruise
England
Ireland
Europe
Israel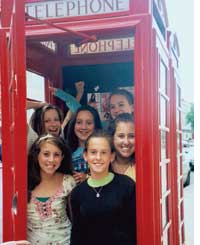 Family Travel and Inter-generational Get-a-Ways
(or how to travel with your kids and maintain your sanity)

There are many different options for traveling with your family, some of which are appropriate for inter-generation travel to include everyone from toddlers to grandparents (or great-grandparents).
Some of the leaders in world travel have developed family friendly escorted trips that will be of interest to a range of ages. For example your family can travel to the Galapagos Islands, snorkel, get up close and personal with a giant tortoise enjoy a relaxing small ship cruise, with all the amenities including lectures by naturalists. Or, maybe you have always wanted to see the big 5 African animals and want to share the adventure with your grandchildren.

What has worked for our family are family cruises. We have had our family group of 12-14 people ranging in age from 4 to 90 enjoy an Alaska cruise and a cruise to the Mexican Pacific coast. This Christmas we are taking a smaller group on a Caribbean cruise. What we have done, is require that everyone eat dinner together daily. That is it for requirements. We pick the excursions that suit each of us best, white water rafting, bus tours, city walks, canopy zip line adventure, snorkeling or staying on the ship and enjoying the quiet at the pool. Child care is readily available and FUN. A variety of entertainment venues for all ages are available, as are food selections for all pallets including pizza, ice cream, prime rib and sushi.

Other exciting options include Disney World™. You can combine the experience of the theme parks with a Disney Cruise, giving you the best of both worlds. Accommodations can be on site at a Disney Resort or consider renting a multi bedroom, multi bathroom vacation villa. (Most with private pools).
Or, consider an all-inclusive beach resort, maybe in the Dominican Republic, Jamaica, Cancun, or Costa Maya. These resorts offer children's programs, water sports, 24 hour a day dinning, entertainment, multiple pools and much more.
Or, maybe you would enjoy a dude ranch adventure.
And that's the wonderful thing about family travel: it provides you with experiences that will remain locked forever in the scar tissue of your mind.
~Dave Barry
If a family vacation is in your future please contact us and let us help you plan memories that your family will cherish for years to come.